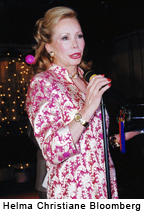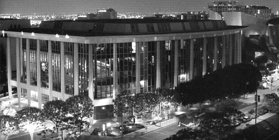 Helma Christiane Bloomberg
has enjoyed a distinguished career of public service and philanthropy for organizations that promote the arts, science, athletics, and cultural exchange. Mrs. Bloomberg's numerous pro bono activities seek to galvanize international goodwill and promote cultural awareness. To facilitate international commerce she connects various consulates with local business leaders while at the same time showcasing their culture through the print media. This year, Mrs. Bloomberg has been recognized by the Los Angeles Consular Corps for her outstanding devotion and invaluable contributions to the Diplomatic Corps as International Liaison. In 2004, Mrs. Bloomberg was honored in the City of Beverly Hills as one of Beverly Hills' "Most Exciting Women" by the South East Symphony.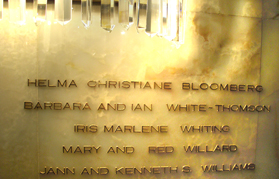 As a champion of the arts, Mrs. Bloomberg has served on the boards of the Los Angeles Opera Company and the Los Angeles Ballet Company. For the Opera Company she made corporate connections and she is especially proud to have initiated a concert for the City of Beverly Hills through the Opera's Education Department. Those special opera performances are now in their sixth season. Mrs. Bloomberg is recognized as a Founder of the Music Center. Mrs. Bloomberg also initiated a dinner at the Japanese Consul General's residence which established funding for Conductor Kent Nagano's Manzanar Performance Piece at UCLA. And, at the Beverly Hills Greystone Mansion, she chaired the Hungarian Classica Romano luncheon for Young Artists International. Mrs. Bloomberg has served on the Metropolitan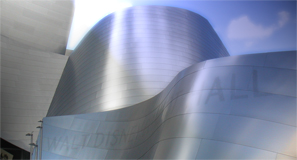 Opera National Council Auditions and was a National Council member. As board member of the William Kapell Piano Foundation she commissioned works by young pianists and provided performance opportunities. Mrs. Bloomberg contributed funds and support for the Media Lounge at the Goethe Institute and the Zachary Auditions for young Opera Singers. She is a member of the Wagner Society. On behalf of the Los Angeles Consular Corps and the Los Angeles Philharmonic, she has mobilized fund-raising initiatives and personally supported their events. Mrs. Bloomberg treasures the friendship of the members of the Asian Ladies Circle of Los Angeles - and she provided aid to victims afflicted by the great Tsunami of 2004. She served as Director of the Beverly Hills Education Foundation. In addition Mrs.Bloomberg was pleased to assist exceptional talent of an International Society of Cultural Ambassadors. The International Society and its benefactors promoted young artists by offering them performance opportunities and financial assistance and now with the help of the Los Angeles Consular Corps, the society continues to make important connections for artists with music conservatories or institutions oversees which promote their individual craft. In return the society encourages these dedicated and gifted individuals to build bridges of friendship and to be emissaries of their skill and culture.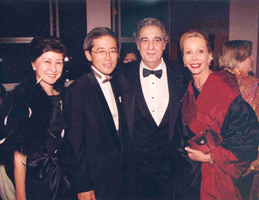 Mrs. Bloomberg devotes time to cross-cultural dialogue by her work as a board member of the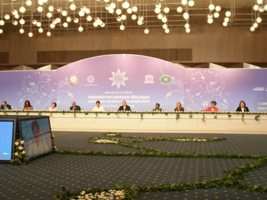 German-American Cultural Society. The society works to normalize German – Jewish relations. On behalf of health and science philanthropies, Mrs. Bloomberg is particularly proud to have served as chair of a Cedars Sinai Medical Center's annual three-day event for diabetes which culminated in a televised "Legends of Tennis" match at the Playboy Mansion. Recently she led the establishment of a dynamic alliance between the City of Hope Hospital and the Los Angeles Consular Corps. Mrs. Bloomberg is a sponsor of the Austrian-American Council West and of the Los Angeles-Berlin Sister City organizations. An enthusiastic supporter of athletics, she has twice chaired "Hall of Fame" Gala Events for the United States Tennis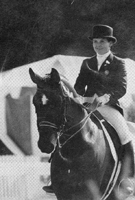 Association, Southern California Section, honoring Champions of Tennis. She has also led the effort to raise funds to send an equestrian participant in the sport of Dressage to the United States Olympic Festival in St. Louis. In June of 2008 Mrs. Bloomberg was invited be the Ministry of Azerbaijan to participate as a Keynote Speaker at the International Forum "Expanding the Role of Women in Cross-Cultural Dialogue," which was held in Baku, Azerbaijan.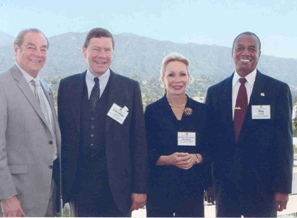 The Forum was hosted in partnership by the Heydar Alivey Foundation, the First Lady of Azerbaijan, UNESCO and ISESCO. The Forum brought together First Ladies of several countries for a total of 400 luminaries and dignitaries from around the globe.
In addition to her multiple interests Mrs. Bloomberg continues to devote time to family and to promote culture and commerce with ongoing speaking engagements and via the print media. Together with her family, Mrs. Bloomberg, a native of Berlin, Germany, has resided in the City of Beverly Hills and West Los Angeles for 41 years. As an international hostess, she has frequently and generously opened their homes for "Music Salons" on behalf of various artists and organizations. During her children's formative years, Mrs. Bloomberg shared her love of horses with her daughters Stephanie and Alanna.